What is an Index Card Sleeve?
An index card sleeve is a type of plastic sleeve that holds one or more index cards. Pretty obvious right?
But what might not be obvious is what type of index card sleeve you're looking for.
Generally, there are two types: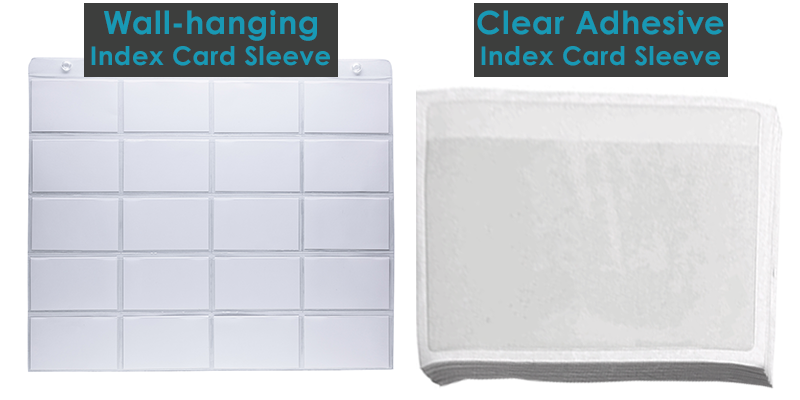 The wall-hanging index card sleeve can hold up to twenty 3×5-inch and 4×6-inch index cards. The second type of sleeve is an adhesive index card sleeve / pocket that usually holds one index card per sleeve.
Let's quickly learn about these two types of index card sleeves and their most-common uses!
The Wall-hanging Index Card Holder Sleeve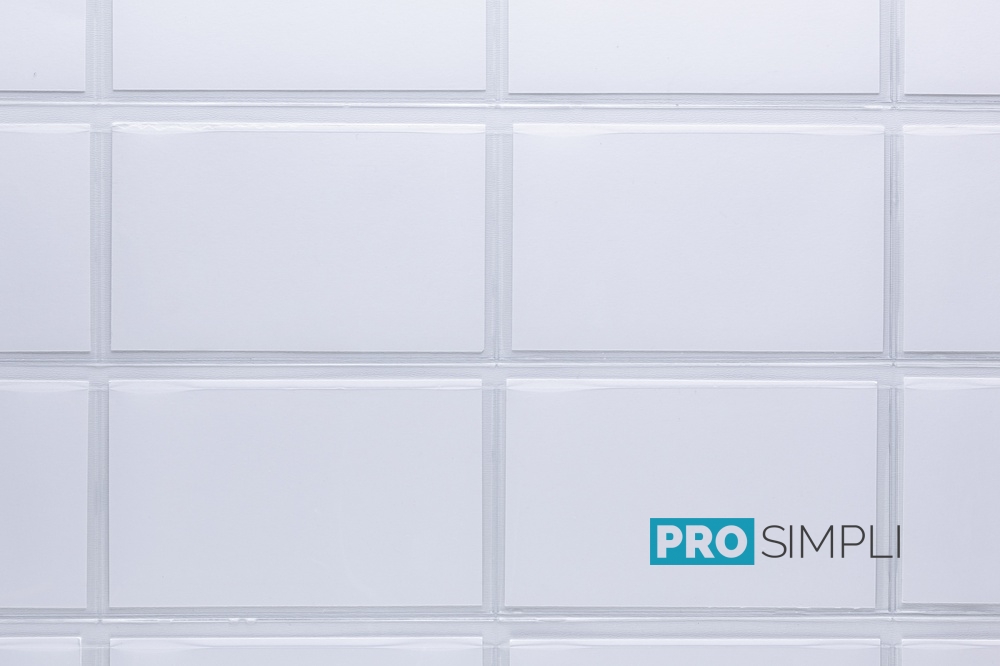 The wall-hanging index card sleeve hangs easily on a wall or cubicle with two regular push pins. Each sleeve can hold anywhere from 5 – 20 index cards.
The material is high-quality clear plastic that is beautifully see-through. Because it's clear, it blends-in easily with any surrounding environment giving off a professional look and feel to any space.
Common Uses
Keep reading below to see this index card sleeve's common uses!
Kitchen
In the kitchen to hold your favorite recipes, dinner ideas, meal plans and coupons. No more wondering what's for dinner each night. Get organized once, and update as you go.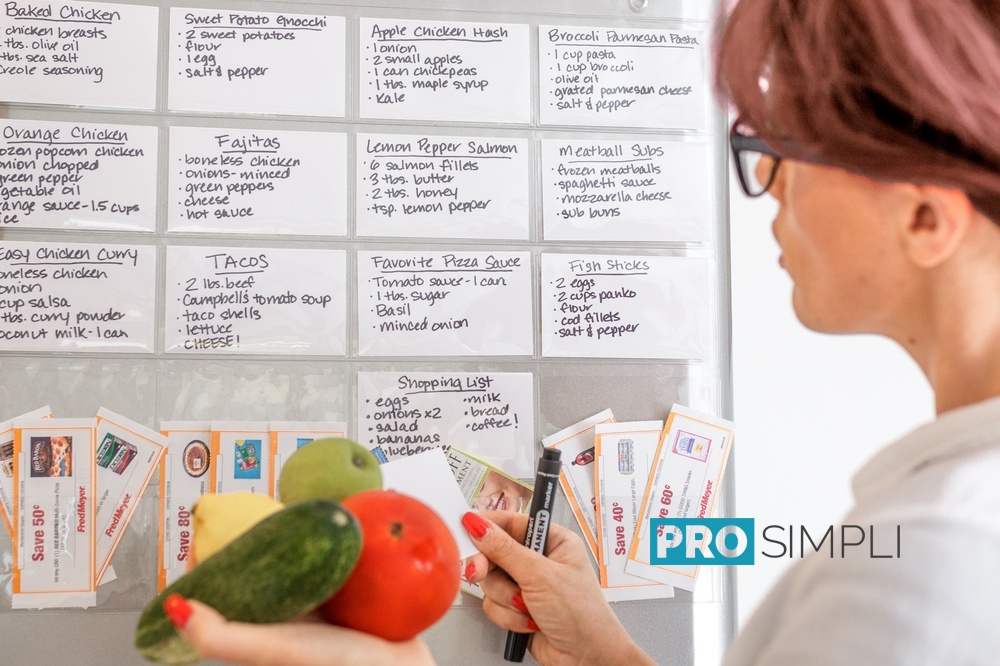 Office
In the office cubicle or meeting room to store important numbers, messages, to-dos, track projects and tasks, and much more.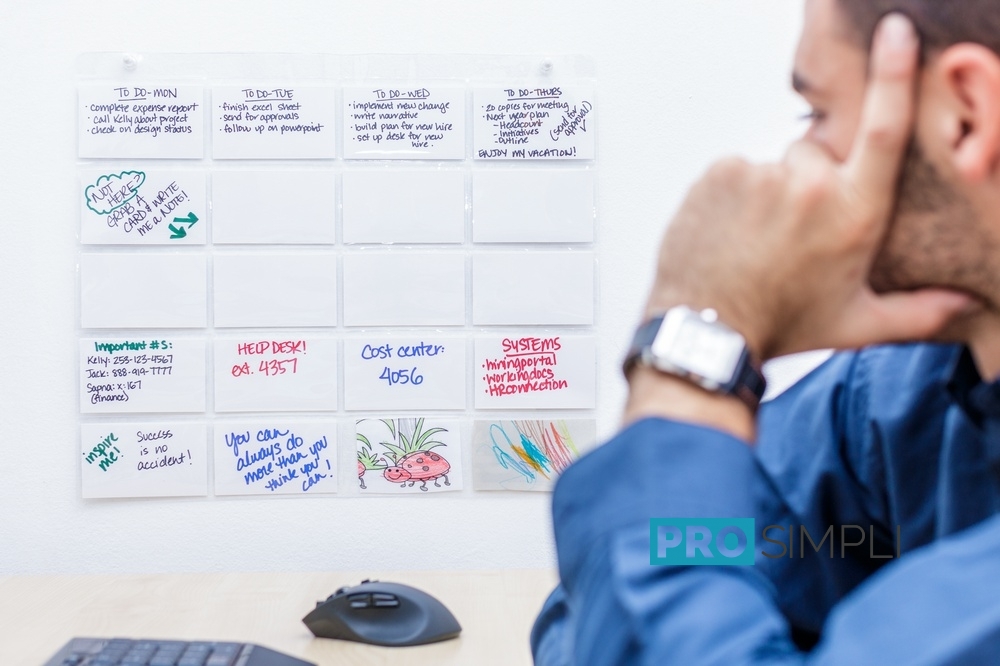 Visualization and Manifestation
In the home for envisioning your short-term and long-term goals, desires, bucket lists, dream home, dream cars, inspiring quotes, and much more.
This is one very powerful use of our index card holder because it's like a vision board for anything you desire.
What you choose to focus on in life expands and becomes your reality.
Conversely, out-of-sight is out-of-mind.
For these reasons, many high-achievers believe that keeping what you want in life – knowledge, materialistic items, inner-wisdom – visually in-front, is not only important, but vital for achieving success.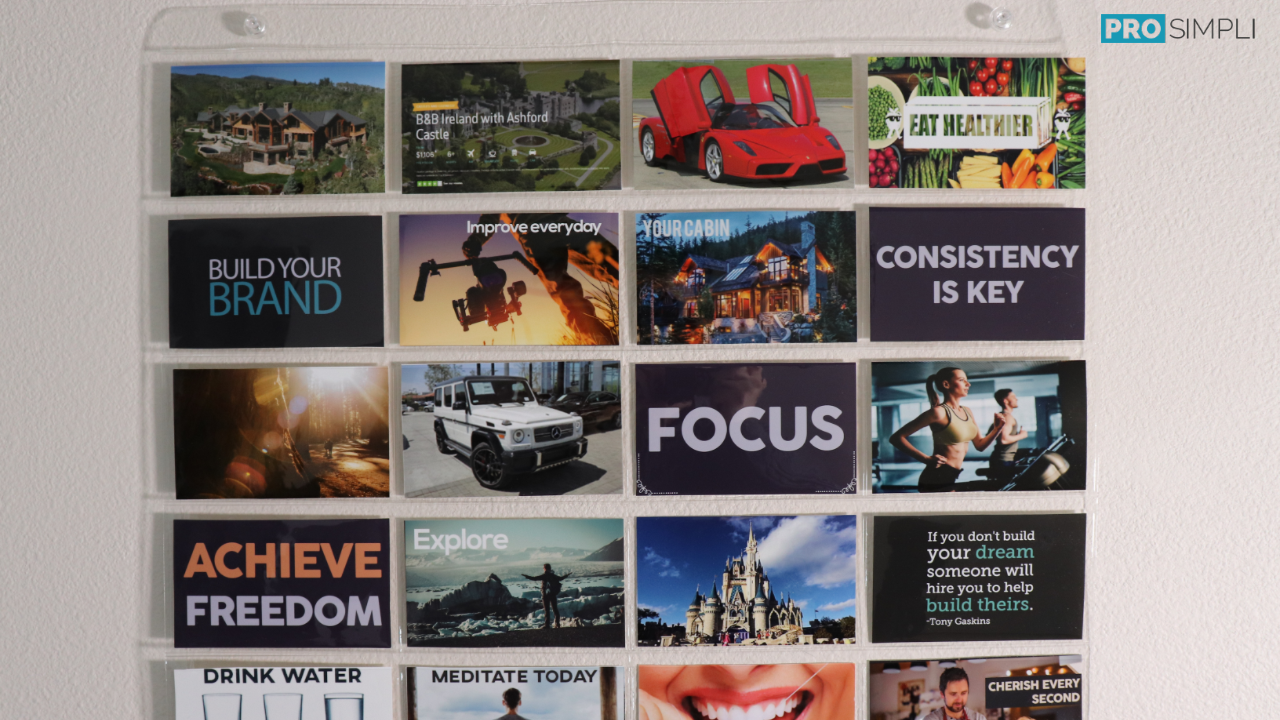 Studying and Note-taking
Use as a note-taking system! This is actually the primary reason we invented the ProSimpli index card sleeve; we needed a quick and efficient way to recall our notes in real-time without having to search for the answer all the time.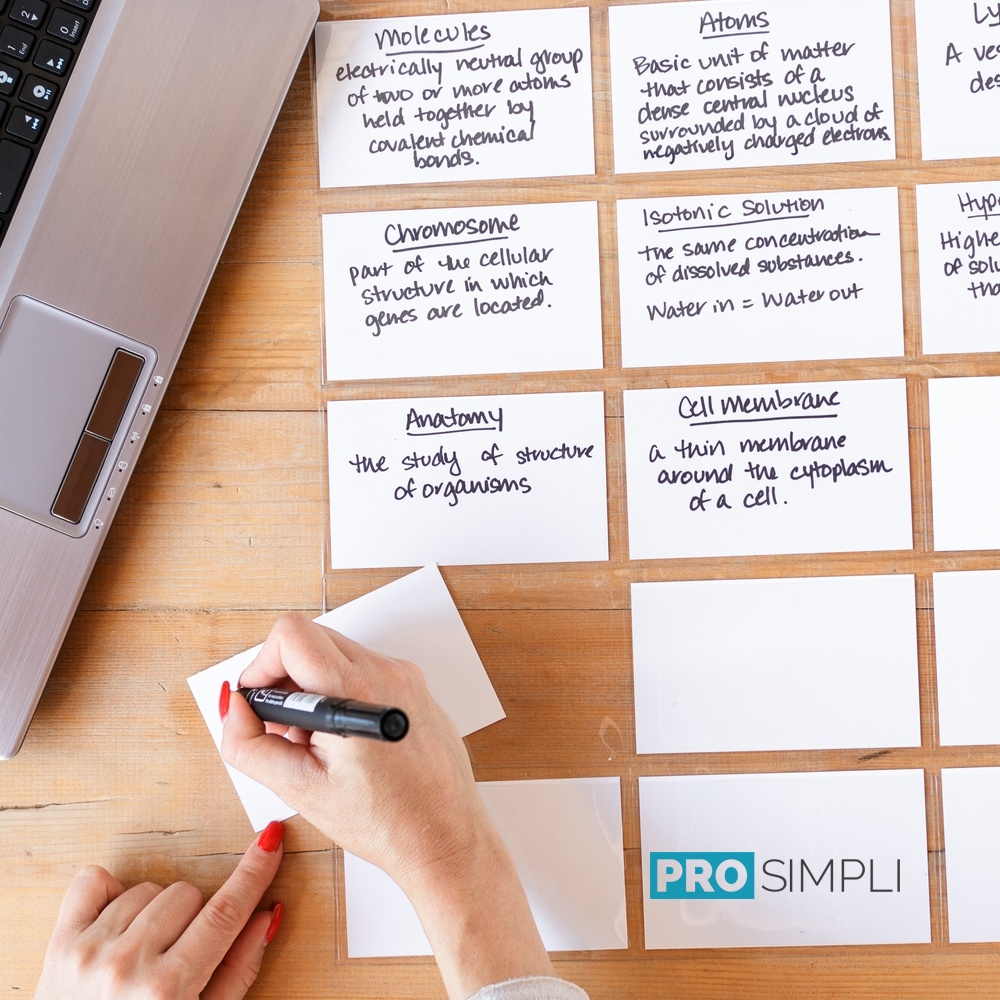 There's a studying concept called spaced repetition and it goes like this: you can basically improve your long-term memory and recall if you space out your study sessions at the moments when you've started to forget.
Our index card holders keep your notes visible and accessible so when you do forget, all it takes is a quick glance to remind you. The signal strengthens in your mind consciously and subconsciously over time.
Early Child Education
Early child development and education is so important. If you are home schooling your child, it can be hard to find reusable teaching aids and activities that your child doesn't get bored with after the first five minutes.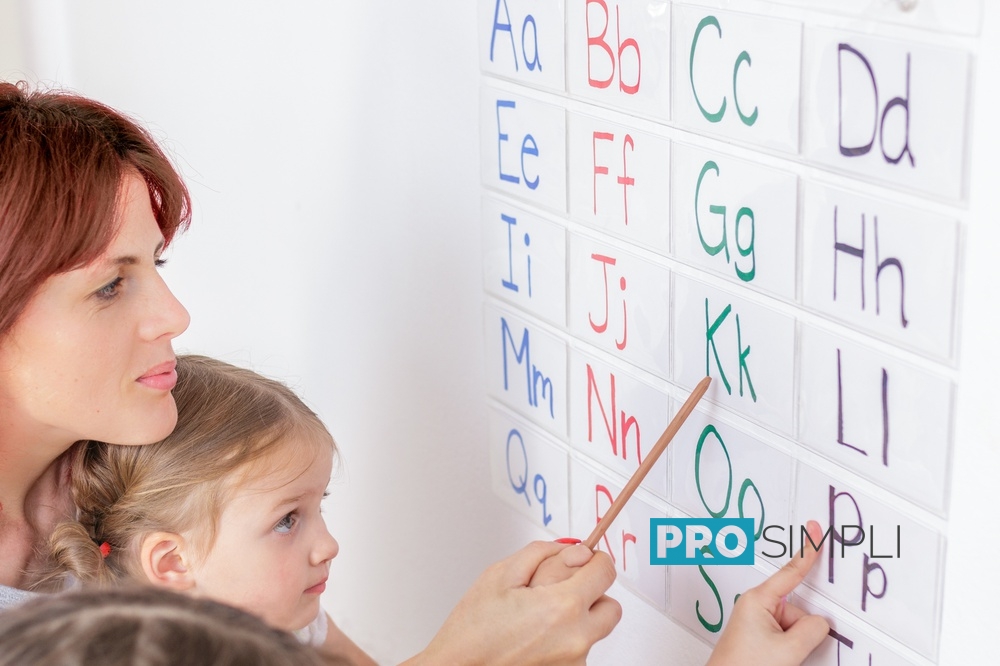 Our ProSimpli sleeves can be used in daycares, at home, even in RVs on the road.
The amount of information you can teach your little one is endless!
Some ideas are:
directions (north, south, east, west)
colors
shapes
letters
numbers
how to tell time (digital, analog)
money (coins, dollars)
two-letter sounds (phonics)
math
We have personally used this technique to prep our 5 year-old for kindergarten. She was beyond ready in literally just a few months and 1 – 2 hours a day of practice.
It was also priceless bonding time that we will cherish forever.
Teacher In The Classroom
Use on a bulletin board or on the wall to store artwork, parent notices, child projects, stickers, seating charts, and literally anything else you can think of!
They are also very useful as teaching-aids. You create them once and you can re-use for many years to come. Updating is also a breeze since the index cards are easy to add, edit, replace or remove.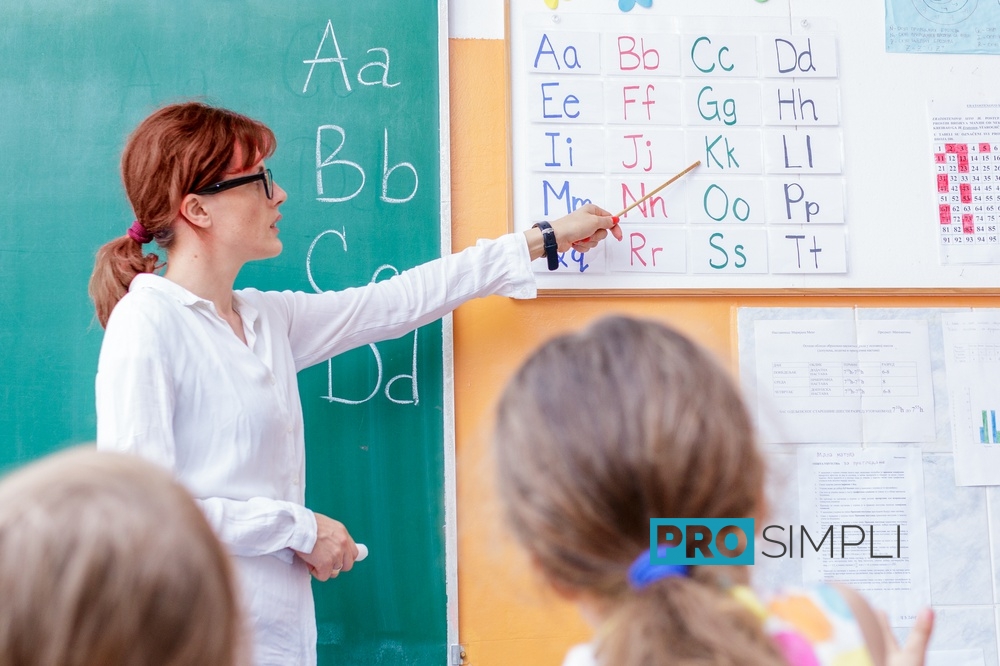 Conclusion
There are MANY uses for our wall-hanging index card holder sleeves. They are a versatile tool that you can use in many environments and for many different purposes.
Let's switch gears now and take a look at self-adhesive index card pockets.
---
The Self-Adhesive Clear Index Card Pocket Sleeve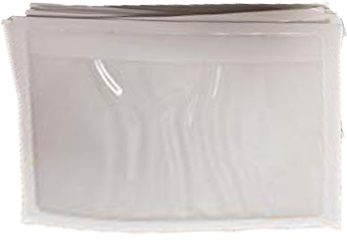 Adhesive index card sleeves have a white peel-away liner on the back that you can remove and stick anywhere (like a sticker).
These types of sleeves are primarily made to hold only one single 3×5-inch or 4×6-inch index card. Since only one side will be showing (unless you put on a window), there's usually little benefit of putting more than one index card per pouch.
Common Uses
classroom label holders (ex: name tags, bookshelves)
on storage bins, totes, fabric cubes
inventory checklist for boxes or storage bins ("what's inside?")
as signage for the location of items in a room (ex: pharmacy, garage, library)
shelf labels
inside binders and journals
as filing cabinet labels
Common Problems
not sticky enough or they lose their adhesion
plastic pouch window is too flimsy and tears easily
white peel-away liner doesn't come off
manufacturing variability (non-uniform dimensions)
too sticky, might stick too much and damage object it's stuck to
doesn't adhere to the surface you want (ex: cloth or canvas bin)
edges might curl up
pocket window can get warped and wrinkled
So, as you might take-away from the above, adhesion is a primary problem with these types of sleeves. Self-adhesive index card sleeves sometimes have problems sticking to the most basic objects like plastic totes or vinyl binders.
Conclusion
The takeaway is, these types of sleeves are excellent as long as they have:
the level of adhesion you need
the types of surfaces you're sticking them to makes sense
you just want to stick one index card at a time
There are not many options to choose from and the ones that are available tend to be a bit pricey.
Thanks for reading! Please leave us a comment below and tell us what you think!