Can you do this with your paper index cards?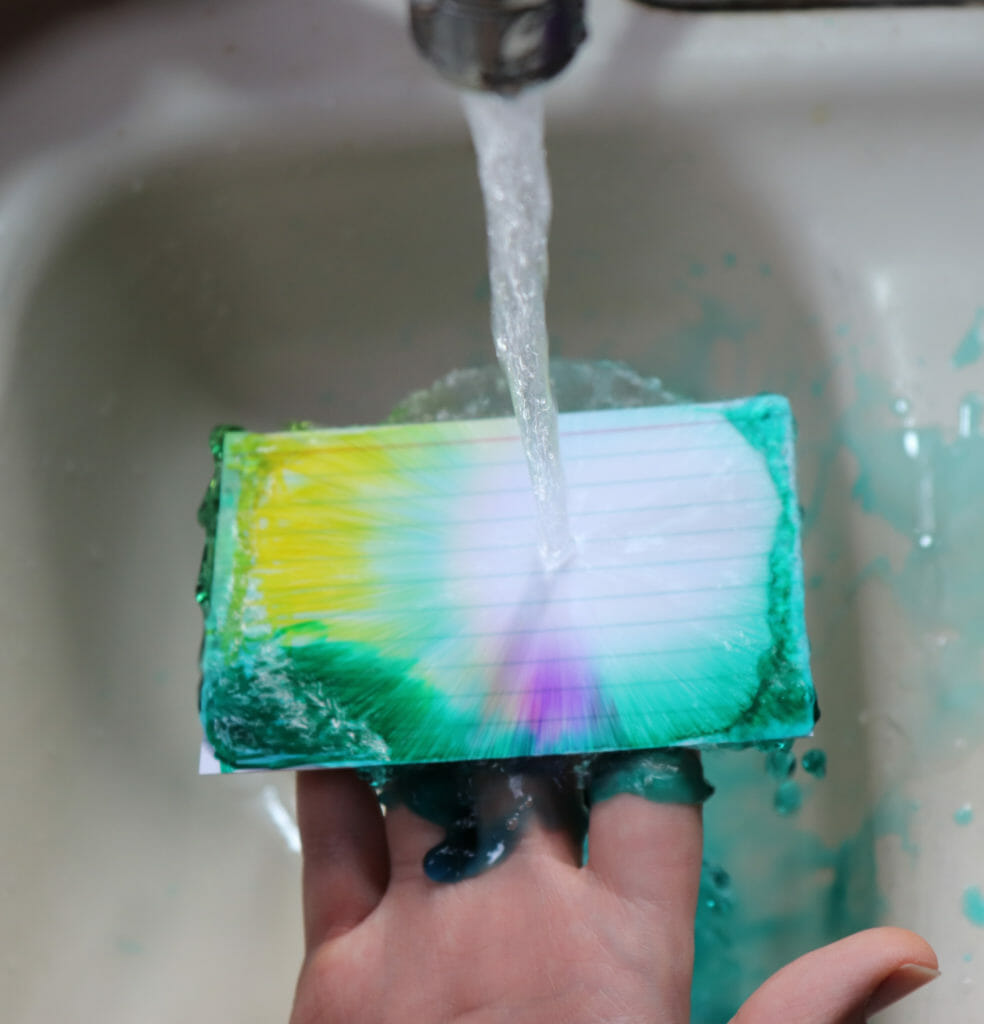 Definitely not.
The above image depicts a ProSimpli reusable index card being ran under a kitchen sink faucet to show how easily the wet erase marker is removed cleanly.
Keep in mind, this was wet erase ink. Dry erase ink comes off even easier.
The fact that our ProSimpli Reusable Index Cards are completely waterproof and washable is due to the fact that they're made of the same material used to make whiteboards.
Since they're plastic vinyl, getting them super-clean after use (without smudges) is easy.
They're also 3x thicker than standard index cards making them super-strong and durable.
Why would you need whiteboard index cards?
For starters, if you use index cards a lot, you won't have to keep buying packs of index cards over and over again. In other words, you can save money in the long-run.
Another reason is to help the environment. Used paper index cards go in the garbage or recycling – either way, it's a waste. With our index cards, you can use them over and over again so there's no need to throw them away.
Another helpful use is for writing daily to-do lists and tasks. Just grab a dry erase or wet erase marker and jot down what you want to accomplish for the day. When the day is done, just wipe away and reuse for tomorrow. It's been proven that the simple act of writing your daily goals down makes you more likely to achieve them.
A superior alternative to sticky notes. Sticky notes are messy, tacky and make your work area look cluttered. With the ProSimpli Reusable Index Cards, you can eliminate the desk clutter, get organized and have a reusable notes system that's easy to update as needed.
What else is cool about our plastic index cards?
You can use them to play word games. For example, you can use a permanent marker to write out a "fill in the blank" spot. The permanent marker will not wash off. You then ask players to try and fill in the blank with the correct answer. Players can use wet erase markers or dry erase markers. We've seen teachers in the classroom have a lot of fun with this one.
In the office, companies use our product in meeting rooms to brainstorm or figure out order of operations-type of problems.
In the classroom, teachers have given each student a card to write out and share something that they're learning that day. There are so many uses for in the classroom it's really only limited by the teacher's creativity.
But won't the ink just smudge off?
If you're worried about smudging use wet erase ink. Honestly, not a lot of people know about wet erase ink or even what the difference between dry erase ink and wet erase ink is.
Basically, dry erase ink can be wiped out without a damp cloth whereas wet erase ink requires something wet like a rag dampened with a little bit of water.
With our index cards, you can literally run them under the faucet and submerse them in water if you like – it won't damage them! Other reusable index cards are made from laminated cardstock… not ours.
So, if you're concerned about smudging, use wet erase ink and give the ink a minute to dry. It won't be completely smudge-proof but it will be resistant to smudging easily.