Do you have a bunch of index cards or even just cards that are 3 x 5 inches or less that you want to organize?
Let's go over your options.
Index card organizer options
So, as you can see, your options are essentially an index card storage box, a fancy index card board you can hang on your wall, something made of cheap, flimsy (usually neon colored) plastic, or a case for a single stack of index cards.
I'm sure there are others but feel free to do an image search on Google for ideas.
What's wrong with these options?
There's nothing wrong with any of the options I mentioned and I've personally tried most of them and they work as-expected.
BUT…
That meant my index cards always had to be stored away and weren't easily accessible on the occasion that I wanted to review one or quickly retrieve information from one.
A Better Solution?
This is the reason I created my own index card organization system. Our solution is an index card organizer that holds and protects up to 20 index cards at a time.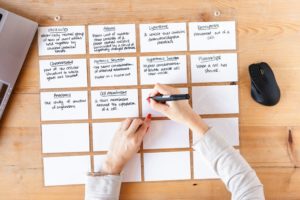 It has two grommets for easy hanging with just two regular pushpins.
If you have to organize many index cards, you can double-up our product to have two index cards per pouch which would hold a total of 40 index cards at a time. In that scenario, flipping the sleeves around when you need to might work for your needs.
With our index card organization solution, you can quickly and easily access the information that you want QUICKLY, without having to sort and sift through a box of index cards.
It's about ELIMINATING BARRIERS.
It sounds like walking over to a recipe box of index cards or flipping through a binder isn't that hard when you need the information.
And it isn't.
But do you like doing it? Just to find the one card you need in the moment?
Probably not. The easier solution is to have it out, in the open, and access your index cards hands-free.
At least, that's what we believe.
If you haven't checked out our ProSimpli index card holder yet, check it out here and thanks for reading!
Leave your comments below if you have any questions or comments.